Drexel Hill Family and Cosmetic Dentistry is very fortunate to have multiple dentists available to our patients. This allows us to have convenient appointment opportunities as well as their wide array of combined experience allows our patients to have a comprehensive team approach to dental care.

Read more about are wonderful Doctors below: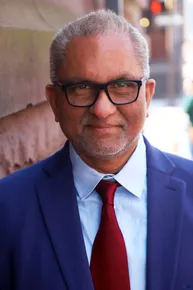 Dr. Dinesh S Tewari, MS, Ph.D, DMD
General Dentist
Dr. Tewari has been living and serving Delaware County area for over 20 years!
He began his career as a biochemical research scientist at the University of California in Davis, University of Pennsylvania, Philadelphia College of Osteopathic Medicine and Temple University. He has presented and published his work in several internationally peer-reviewed scientific journals and was awarded with grants from the National Institutes of Heath to pursue studies on periodontal disease. Dr. Tewari continued his passion in dental health and later graduated from Temple University's Kornberg School of Dentistry.
His research experience in biomedical sciences coupled with his genuine concern for patients allows him to provide a comprehensive and advanced approach to dental health care that is uncommon in today's rushed world. He has dedicated himself to lifelong learning and continuing dental education, and his main focus is to help patients find their perfect smile. He always keeps the same goal in mind, to provide patients with the highest level of treatment in a comfortable and caring environment. He has many lifelong patients who love and appreciate his kind and gentle demeanor.

He truly loves serving his community and still resides in the Delaware County area. He is a proud husband and father of three girls- two of which continued his passion and went on to become dentists themselves!
---
Dr. Rania El Madhoun, DMD
Dr. Madhoun graduated from the University of Pennsylvania School of Dental Medicine and combines experienced hands with smart patient care to help her patients achieve beautiful, healthy smiles for life. Using the latest technology, Dr. Rania can help your dental care and restore your teeth and gum health quickly and comfortably. With experience comes learned confidence. You and your smile will be healthier every time you leave her care.